Kivisto Veterinary Clinic, LLC is aware of the vast amount of information available on the internet. Our team has taken the time and evaluated the following sites. We trust the information the listed websites provide to you, our client, and member of our extended veterinary family.
Pet Health Network
http://www.pethealthnetwork.com/

Veterinary Partner
http://www.veterinarypartner.c...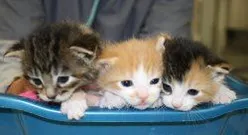 American Kennel Club
www.akc.org

American Veterinary Medical Association
www.avma.org

Association of American Veterinary Medical Colleges
www.aavmc.org
Center for Veterinary Medicine- U.S. Food and Drug Administration
www.fda.gov/cvm/
Companion Animal Parasite Council
Dogs and Ticks
---
If you are looking for a new family companion why don't you start your search at one of our local humane societies or animal rescues!
No Dog Left Behind Rescue
Tri-County Humane Society
http://www.tricountyhumanesoci...
Northwoods Humane Society
Animal Humane Society
http://www.animalhumanesociety...
Minnesota Hooved Animal Rescue Foundation
http://mnhoovedanimalrescue.or...
---
If you need help remembering to give your pet their monthly medications or a reminder to order their medication you can sign up for email reminders on the Remind My Pet website.